Why a Porsche 911RS?
The intention was (2003) to build entirely in-house a classic racing car.
The racing car must serve for both club races and youngtimer races in the Netherlands, Germany and possibly also for a European Championship.
With 30 years experience preparing and driving rallycross and racing cars it should be possible to create A topper
The type full name: Porsche IROC RSR 1974 3.0 group 4.
He will meet the homologation papers No 3053.
The base vehicle is a Porsche 911 SC from 1978
In 2013 the car finaly has got the FIA HTP papers. Also because FIA accept now the IROC series as international events.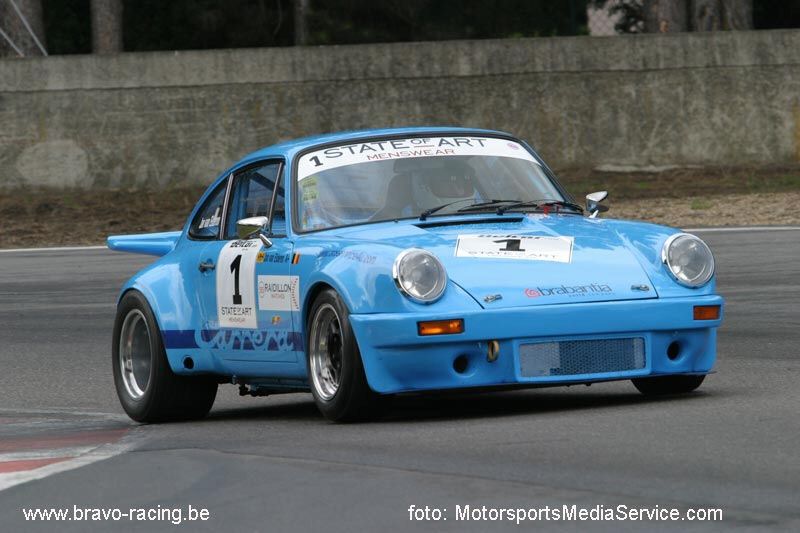 The Porsche 911 in my opinion the best choice;
* The Porsche 911 is a winner in the past and still is.

* Many "fast" components are allowed to use in the regulations.

* A verry good power/weight ratio. Also because of the many homologated polyester parts.

* Building a youngtimer Porsche takes as much time as for example a young timer Escort MK1 with BDA engine. Many parts are as expensive as a top Escort MK1 BDA.

* The 911 is a new challenge for myself. Often Porsches were my competitors and I had always the desire to drive it myself.
In early 2003, a 911 SC 1978 was purchased. There is plenty of choice. Because the Porsche 911 model hardly changed between 1974 and 1983.
Since 1976 all 911 bodies were made of galvanized sheet steel. The SC we found had a few rust spots. This was only the jack stands and the front wings. So there was a bit of welding for rust on the jack stands. Most welding was done for the renforments (comply to 3053) of the body and the roll cage.
With a wire brush on the grinder is all coating of the bottom plate were removed. As the sound absorbing material has also been removed, this is not only the weight, but also a fire hazard.
The target weight is 950 kg.
After this dirty work was painted in the body completely youngtimer light acid blue.
More than 8 liters of paint was required. This is the only work that is outsourced.
In the construction of this Porsche you can benefit greatly from the Internet.
Looking for everything that is needed for the construction of this Porsche is thus much easier.
* Regulations of FIA, Annex J of 1975 etc.

* Photos of original 911 IROC RSR 3.0 1974.

* Suppliers of parts. Especially in America is a lot of choice and a low dollar also cheaper than German suppliers, despite the import tax and transportation costs.
All parts must be "time period" according to the FIA regulations. Initially I thought this would be difficult for the Porsche. It the case in 2003. But now there are more and more producers who recreate the speciale parts. Like you see on this website for twin plug systems.
Copyright Jan van Elderen